Veneers – Rockville, MD
Hide Imperfections like Stains, Misalignment, and Chipped Teeth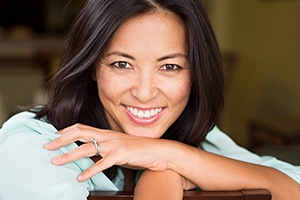 How powerful is a beautiful smile? Powerful enough to inspire greater self-confidence and help you improve your business, social, and romantic relationships. That's why Dr. Robert Sanker offers effective cosmetic dentistry services, like veneers in Rockville, to hide imperfections like stains, misalignment, and chipped teeth. The best part? In as little as two appointments, you will have a brand-new smile to show the world! Get in touch with our team today to schedule your initial consultation.
What Are Veneers?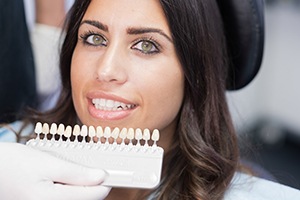 In short, veneers are thin pieces of high-quality dental porcelain. By adhering them to the front of your teeth, our cosmetic dentist in Rockville can effectively conceal several dental flaws – from minor misalignment to permanent stains – simultaneously. This process begins with an initial consultation, where Dr. Sanker will complete an oral exam to assess the health of your teeth and gums (great oral health is important for anyone considering a cosmetic or restorative procedure).
After your exam, Dr. Sanker will talk with you about how you want your smile to look and what changes you want to make. If veneers in Rockville are the best service for you, we can help you by putting a personalized treatment plan together immediately.
As Dr. Sanker designs your veneers, he'll keep two important details in mind: the shape and the shade of your teeth. Your veneers will be designed to match both, yielding natural results. When the design of your veneers has been completed and your teeth have been prepped, a lab will carefully craft them according to our specifications and instructions. After your veneers are ready, you'll come back to our dental office in Rockville to have them put in place and to have the finishing touches put on your new smile.
The Benefits of Veneers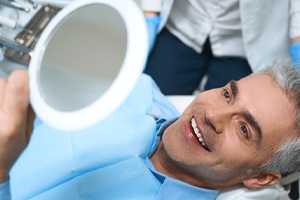 Veneers are one of the most sought-after cosmetic dental treatments each year. In addition to yielding beautiful results, this smile-transforming treatment comes with a number of other benefits, including:
Long-lasting results – With proper care, veneers can last for 10+ years.
High-quality materials – Unlike enamel, dental porcelain is incredibly stain-resistant.
Versatility – Since veneers are customized to each patient's unique dental needs, they can be used to address one flawed tooth or to conduct a complete smile makeover. Plus, the results can be as natural or dramatic as you'd like.
Easy maintenance – To keep your veneers in pristine condition, you can use the same best practices you use to keep your natural teeth healthy (i.e., brushing twice a day, flossing daily, etc.).
Quick turnaround – Start to finish, the entire process can be completed in as little as two visits, which are typically spread out over the course of a few weeks.
Understanding the Cost of Veneers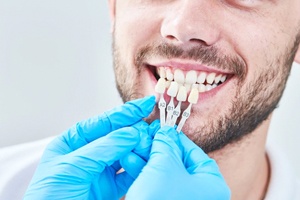 Dr. Sanker uses only the highest quality dental porcelain to craft veneers. As a result, porcelain veneers tend to have a higher price tag than composite ones. However, they almost always last longer and have to be replaced less often, helping you save money in the long run!
Because no two smiles are exactly alike, there is no one-size-fits-all cost of veneers in Rockville. At your consultation, Dr. Sanker can discuss the details of the procedure, as well as the pricing information, to help you decide whether veneers are right for you.
Are Veneers the Right Cosmetic Dentistry Treatment for Me?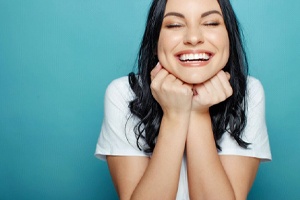 Whether you want to hide a single problem tooth or give your smile a complete makeover, veneers in Rockville are versatile enough to do it all. That said, it's important to take all of your options into account when deciding to invest in cosmetic dentistry. Depending on your budget and the specific ways in which you'd like to improve your smile, you should take a moment to consider the following:
Teeth whitening – Dr. Sanker can provide you with a custom-made teeth whitening kit that is several times more potent than products you can find in stores. With this treatment, you can brighten your smile in the comfort of your own home and achieve optimal results in about two weeks. However, teeth whitening can only change the color of your teeth, not structural flaws like chips or cracks.
Braces – Braces and other forms of orthodontic treatment, like clear aligners, can even out your smile and improve your oral health. Like teeth whitening, though, braces are limited in the types of cosmetic dental flaws they can correct. They are unable to fix stained, chipped, or misshapen teeth. Plus, braces often cost several thousand dollars.
Direct bonding – Bonding is an affordable treatment that can quickly address minor imperfections, like cracks, discoloration, and gaps, in just one appointment. The drawback is that a cosmetic dentist in Rockville will have to touch up the results every five to ten years on average.
Veneers – If you're looking to transform several aspects of your smile in a few short appointments, veneers are an ideal solution. They can address misalignment, stains, chips, cracks, and misshapen teeth in one fell swoop. Veneers may cost more than direct bonding or teeth whitening, but you'll have a red-carpet-ready smile for years, if not decades, to come!
How to Make Veneers Affordable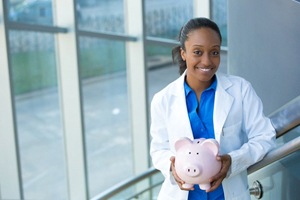 Dental insurance providers do not normally cover cosmetic procedures like veneers, but our practice can still help you fit the cost of your new smile into your budget through our partnership with CareCredit. This trusted financing company has helped countless patients make their medical and dental care affordable. They offer several payment plans to choose from that can span anywhere from three to thirty-six months, making your veneers more budget-friendly. Best of all, many of these plans have very low interest rates!
Veneers FAQs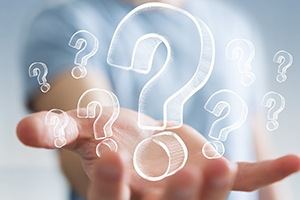 You can achieve the picture-perfect smile you desire with veneers in Rockville; however, they are a big commitment. It's normal to be a bit apprehensive to agree to the procedure, but there isn't any reason to fret. Dr. Sanker will explain everything during your initial consultation. To ease your concerns until your visit, here are the answers to a few of the most common questions our patients ask him.
Are veneers permanent?
Veneers aren't permanent because they will eventually need to be replaced. On average, the lifespan of a veneer is about 10 years, but they can last for much longer with the right aftercare. Since the process of applying them requires removing a small amount of enamel, they will always need to be covered by restorations, whether veneers or crowns. Although your enamel will not grow back, it won't affect the health of your teeth.
How many veneers will I need?
It's possible to bond a veneer to a single tooth, such as to fix a chip, but your cosmetic dentist in Rockville likely won't recommend it. The overall goal of veneers is to improve the smile as a whole. As a result, multiple veneers are often needed to create symmetrical results that look natural. Often, Dr. Sanker will suggest putting veneers on the teeth most visible when smiling, which can require 6 to 12 depending on your goals.
Do veneers feel like real teeth?
You won't need to stress about your veneers making your teeth feel bulky. In fact, many patients report they feel completely natural when talking and eating. Your veneers are carefully crafted to meet your exact specifications to fit your teeth like a glove. Your dentist will remove a small amount of enamel to ensure they sit flush, so they won't irritate the soft tissues in your mouth. Since modern veneers are thinner than ever, they won't protrude or feel heavy.
Can I whiten veneers?
Unfortunately, you cannot whiten veneers; however, some veneers are made of porcelain, which is stain-resistant. You won't ever need to worry about your veneers discoloring if you care for them properly, like using nonabrasive dental products. This will prevent scratches on their surfaces, which can make them appear stained. Although your veneers won't discolor, your underlying teeth are still vulnerable to stains. It's best to maintain your oral hygiene and limit your contact with stain-causing factors, like coffee or smoking. Depending on the color of your teeth, your dentist may recommend having your teeth whitened before applying veneers. This will ensure they are the ideal color match to provide consistent results.
Does dental insurance cover veneers?
It's rare for dental insurance to cover veneers because they are considered elective; however, there are some exceptions. If the procedure is deemed medically necessary, your policy may cover a portion of the costs. If applicable, a member of our team will work on your behalf with your dental insurance to maximize your annual benefits to offset the cost of veneers.