Esthetic, Reconstructive & Implant Dentistry for Rockville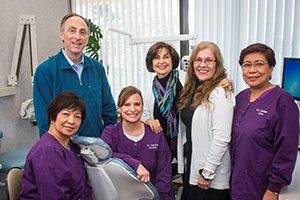 Welcome to the dental practice of Dr. Robert J. Sanker! We look forward to helping you regain not only your ideal smile through our dedicated efforts, but an improved quality of life as well. Are you struggling with complex dental problems that your general dentist cannot properly care for? Are you interested in undergoing a comprehensive smile makeover or replacing missing teeth? As one of Washington's top Prosthodontists, Dr. Sanker is capable of assisting you with these concerns and so many more. Our team will take the time to get to know you well throughout the treatment process, and our specialty approach should exceed expectations. Please contact us today if you'd like to schedule a first visit. Dr. Sanker proudly sees patients in the Rockville, Bethesda and Potomac communities.
Why Should I Choose a Prosthodontist?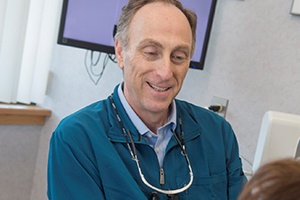 If you're missing one or more teeth, are self-conscious about your smile, or require reconstructive work due to dental trauma or disease, you need a prosthodontist. Dr. Sanker expertly and esthetically restores damaged smiles with the help of modern technology, established techniques, and the finest materials. We understand the dynamics of a healthy smile and handle even the most complex restorations with skill, compassion, and an unwavering attention to detail.
Patients are often referred to us for dental implant replacement of missing teeth or accidentally damaged teeth. Professionals appreciate our cosmetic therapies and all-white restorations that enhance and revitalize weak smiles. Mature individuals are often interested in natural-looking dentures or other replacement teeth options. Whatever your dental needs, Dr. Sanker has the skill and experience to give you back your treasured smile.
In-House Dental Laboratory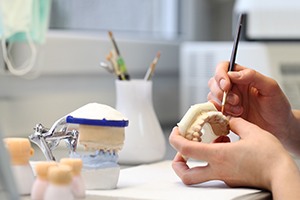 Many laboratory procedures are performed in our own office by Dr. Sanker or our staff. Specialized prosthetic prescriptions are sent to world-class dental technicians and ceramists in our local area as well as throughout the United States. With the advent of high speed internet, superior communication can be made with our technicians via digital and photographic imaging. All materials utilized in your dental prosthesis will come with an alloy or materials certificate indicating the highest degree of safety and biocompatibility.
More to Explore