TRIOS Impression Scanner – Rockville, MD
No More Messy Impressions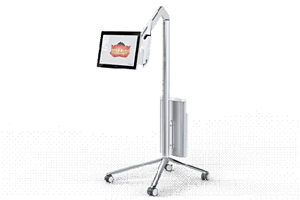 If you have ever had to receive a crown, bridge, or other type of restoration, you might remember a long and cumbersome process. The impression part of the treatment might have made a particular impression on you — and not in a good way. It used to be that dentists had to use manual impression trays that a patient held in their mouth for an uncomfortably long period of time. Some patients would even gag on the material.
All of that is changing thanks to the TRIOS Impression Scanner. Dr. Sanker has invested in this technology to streamline the treatment process and drastically enhance patient comfort.
What Is the TRIOS Scanner?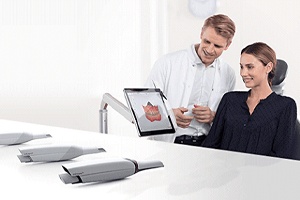 This piece of technology is an intraoral scanner that we move around a patient's mouth. Its camera captures countless images and assembles them into an accurate, detailed, three-dimensional representation of the patient's teeth. We can use the TRIOS scanner to:
Design dental prosthetics, such as crowns, bridges, and veneers.
Communicate with patients about their recommended treatments and help them truly understand the path ahead of them.
Gain a realistic, comprehensive, and easy to understand visualization of a patient's oral structures.
There are a few different types of TRIOS intraoral scanners. In our office, Dr. Sanker uses the TRIOS Move model. It has a mobile touchscreen that can easily be moved up and down; its angle is simple to adjust as well. Therefore, both patients and doctors can enjoy a comfortable view of the onscreen images.
Benefits of the TRIOS Scanner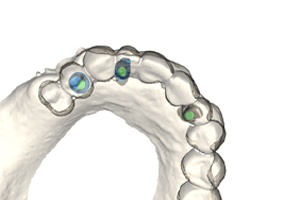 Some of the scanner's main benefits include:
The scanning process is easy and much more accurate than manual impressions.
No-contact scans means there is nothing for patients to gag on!
First-time accuracy ensures that patients do not have to put up with multiple, time-consuming attempts at taking manual impressions. You can finish your appointment and get back to your life that much quicker.
The onscreen images are clear and easy for dentists to explain, a fact that can make you much more confident about any upcoming treatments that your dentist recommends.
We can use scans from appointment to appointment to monitor your dental health and help you maintain your smile.
Smile Design technology helps us visualize treatment outcomes and work with patients to achieve the designed results for any cosmetic or restorative treatment.
Of course, TRIOS is not the only brand of digital impression scanners on the market, but Dr. Sanker chose the TRIOS Move model because of its ease of use and patient-friendly features. You may be surprised by how much it improves your dental treatment experience! If you would like to learn more about the TRIOS scanner or the other technology in our office, or if you are ready to schedule an appointment, contact us today.