Emergency Dentist — Rockville, ST
Emergency Care When the Unexpected Happens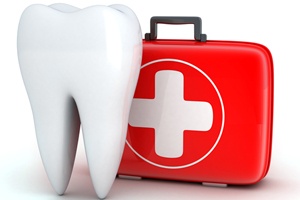 Hopefully, sudden dental pain or injuries are situations that you don't have to deal with very often. But when you do, getting fast, high-quality care from an emergency dentist in Rockville is essential for the future of your smile. With over 35 years of experience, advanced training, and the latest technology, Dr. Sanker and our compassionate team will have you out of pain in no time and help protect your oral health for many years to come. If you or a family member ever find yourself in a dental emergency, contact us at any time. We'll do everything we can to see you the same day!
Why Choose Robert J. Sanker, DDS for Emergency Dental Care?
Multiple Sedation Options Available
Open Five Days a Week
Advanced Dental Technology In-House
What to Do in a Dental Emergency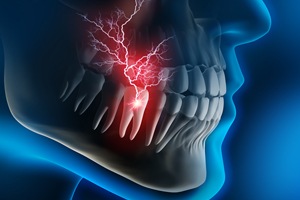 Call us right away to schedule an appointment: The sooner you get in touch with our team, the sooner we can get you scheduled for an appointment as well as provide first-aid tips over the phone. We are open five days a week (Wednesdays by appointment) so don't hesitate to call if something doesn't feel quite right.
Get an emergency exam performed by Dr. Sanker: You can rest assured that Dr. Sanker and our experienced team will perform a detailed exam of your mouth to find the source and severity of your emergency symptoms.
Provide fast relief and break down our findings: After offering any immediate relief for your discomfort, our team will create a custom treatment plan and discuss it with you directly. You'll know the cost estimates ahead of time, so you can make an informed decision beforehand.
Get the comprehensive care you need: Our office can perform a variety of treatments depending on your dental needs. Whether you need dental fillings, personalized crowns, gum therapy, treatment for TMJ, extractions, or something else, we're here to help you get your smile back to a healthy state.
The Most Common Dental Emergencies
Dental emergencies can be broken down into two main categories. There are sudden injuries and accidents that are completely unexpected, and then there are issues such as toothaches that have been developing over a period of weeks, months, or even years. After you've called us to schedule the first available appointment, you can use the following tips for managing the situation until your visit. If you experience any of the following dental emergencies, please call us.
Understanding the Cost of Dental Emergencies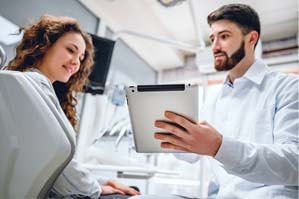 Emergency treatment varies a lot and can include anything from a simple filling to a root canal and dental crown. In some cases, we may recommend an extraction followed by a second phase of treatment later on to replace the missing tooth. After Dr. Sanker has assessed your needs, he'll make a recommendation and will always give you different treatment options whenever possible. You'll also get a cost estimate and have an opportunity to ask any questions so that you can make the best decision for your personal circumstances.
How to Prevent Dental Emergencies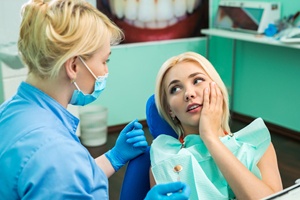 As a dentist in Rockville, we focus on prevention to help our patients avoid emergencies as much as possible. This includes all of the following:
Regular checkups are incredibly important so we can catch small issues before they turn into emergencies.
Good brushing and flossing habits go a long way towards prevention.
A mouthguard is essential if you participate in any contact sports or recreational activities like mountain biking.
If you clench and grind at night, a nightguard will protect your teeth from chips and cracks.
Avoid chewing on ice, pens, or hard candies.
Dental Emergency FAQ's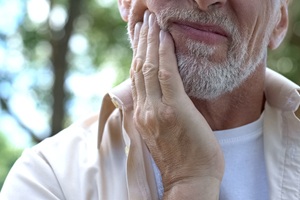 When you're dealing with a broken tooth or the mother of all toothaches, the last thing you want to deal with is more stress and anxiety because you're not sure what to do. That is why we outlined how to handle common dental emergencies earlier on this page. To make matters even easier, we have also decided to answer some of our most frequently asked questions about dental emergencies for your convenience down below.
What Constitutes a Dental Emergency?
Every dental emergency is different. Obviously, knocking out a tooth during a sporting event is very different from a toothache that manifests from weeks of poor oral hygiene. Sometimes, it can be difficult to tell whether your oral health issue even needs emergency treatment. The most common signs of a dental emergency are:
Bleeding from the mouth
Teeth that are loose, broken, or completely missing
Serious discomfort or pain
Even if you're unsure whether your dental problem warrants calling your dentist, it's better to be safe than sorry in a situation like this. Ignoring a dental health problem usually causes it to worsen over time, resulting in extensive and often costly treatment being necessary in order to restore your oral health.
Should I Go to the Emergency Room?
If your dental emergency is traumatic, your first instinct might be to call your local hospital instead of your dentist. It's worth mentioning, however, that most hospitals don't have a dentist on staff, so they don't possess the skills or equipment necessary to treat a dental problem like a broken tooth. At most, they might be able to write you a prescription for antibiotics or pain medication, but they often can't address the root of the problem like Dr. Sanker can.
For most dental emergencies, your best bet is to contact us. However, if your dental emergency could also be considered life-threatening, such as a broken jaw or swelling that hinders your ability to breathe or swallow, you're better off going to the emergency room.
Will My Tooth Need to Be Removed?
When you have a severe toothache, you might think that extracting your tooth is the best way to alleviate the pain. However, we generally try our best to save your tooth whenever possible. When a tooth is removed, your jawbone weakens in that area, putting you at risk for further tooth loss. Additionally, the adjacent teeth may start to shift out of place. For this reason, we will usually only remove a tooth when all options to save it have been exhausted or if it threatens the health of your other teeth.
My Toothache Went Away. Do I Still Need Treatment?
If you have a toothache that subsides, you might be relieved that you're no longer suffering from the pain. You might believe that your tooth is getting better. However, if your tooth pain was due to an infection, your problem is far from over. A lack of pain might mean that the infection has damaged the tooth to the point that the nerve is destroyed, effectively making the tooth "dead." Once the tooth reaches this point, a root canal is pretty much your only option of saving the tooth before extraction is considered.