All-Ceramic Crowns for Rockville Residents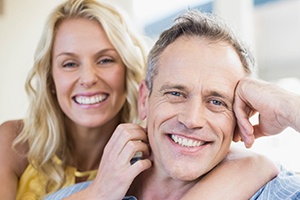 Crowns can be used to repair a number of dental damage problems. These include:
Broken Teeth
Chipped Teeth
Severely Decayed Teeth
Strengthening a Tooth
Improving the Look of a Tooth
For patients at the Rockville office of Dr. Robert J. Sanker, we offer all-ceramic crowns to make these kinds of repairs more aesthetically pleasing. All-ceramic crowns are an improvement on ceramic-fused-to-metal crowns, offering a completely natural appearance for your dental restorations. All-ceramic crowns can restore your smile to perfect function and improve your oral health when teeth have been structurally damaged by decay, injury, or disease.
Why Choose Prosthodontist Dr. Robert J. Sanker?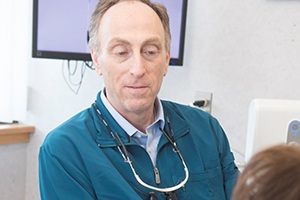 Most dentists will perform your all-ceramic crowns procedure, but as a prosthodontist, Dr. Sanker is highly skilled in dental restoration. In order to become a prosthodontist, Dr. Sanker continued his education beyond dental school to learn about how to best replace missing teeth and restore heavily damaged teeth. When seeking a dental healthcare professional to improve your smile, entrust your care to a specialist - Rockville prosthodontist, Dr. Robert J. Sanker.
The Advantages of All-Ceramic Crowns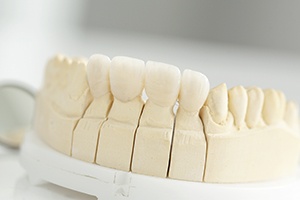 Patients come to Dr. Sanker seeking top-of-the-line dental care. Our patients expect the best in both function and appearance. All-ceramic crowns are lightweight, tooth-colored, and strong, offering you an excellent alternative to metal or ceramic-fused-to-metal crowns. Because they are made from 100% ceramic, they reflect light much the same way that natural tooth enamel does. Also, all-ceramic crowns are completely biocompatible, meaning that they won't cause an allergic reaction or increase dental sensitivity.
The Process for Fitting an All-Ceramic Crown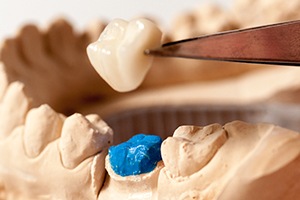 If you're interested in an all-ceramic crown from Dr. Sanker in Rockville, you will come to our office for an initial exam and consultation. During this visit, Dr. Sanker will reshape the tooth to be crowned in order to make room for the ceramic restoration. We take an impression to be used to craft your one-of-a-kind all-ceramic crown, and this impression is then sent to a top quality dental lab. Rockville dentist Dr. Sanker only trusts some of the best dental laboratories to create the ceramic dental restorations for our office.
It will take about 2 to 3 weeks for the dental lab to complete your custom all-ceramic crown. Once it's been finished, you return to our office to have it bonded to your tooth. Dr. Sanker will make sure that your crown fits comfortably and functions properly before permanently bonding it to your tooth.