Dental Implants – Rockville, MD
Tooth Replacement That Gives You a Reason to Smile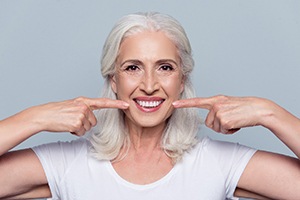 There is no better reminder of the importance of maintaining healthy teeth than having to live without them. It means simple tasks, like chewing food effectively and pronouncing words with clarity, can suddenly become difficult. Furthermore, an asymmetrical smile can leave you feeling less confident. Here at our dental office, Dr. Robert J. Sanker helps patients get their lives back on track by placing dental implants in Rockville. To start the process to regaining the smile you once had, contact us today to schedule an initial visit!
Why Choose Robert J. Sanker, DDS for Dental Implants?
Entire Dental Implant Treatment Provided Under One Roof
Highly Trained Prosthodontist with 35+ Years of Experience
Low-Interest Dental Financing Available
What Are Dental Implants?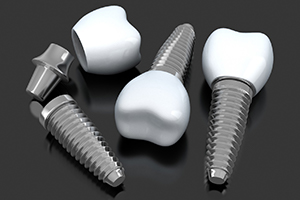 Dental implants are tooth replacements that recreate each part of a missing tooth, from the root hidden beneath the gums to the crown that's visible in the smile. Each implant consists of a small post made of titanium, which is a biocompatible metal. The implant is surgically embedded in your jawbone, where it fuses to the bone and tissue to essentially become a part of your own anatomy. An abutment just above the gum keeps the post in place. Then, a dental crown, bridge, or denture replaces the visual portion of your teeth. The end result is a tooth replacement that gives you a reason to smile by flawlessly replicating the look, feel, and function of your original teeth!
The 4-Step Dental Implant Process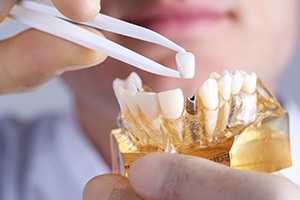 The dental implant process takes course over several months, starting with a consultation with Dr. Sanker. During your initial visit, we'll determine whether you're a good candidate for the procedure and put together a detailed timeline so that you know what to expect. Thanks to his advanced training as a prosthodontist, Dr. Sanker can conveniently perform every step of the dental implant treatment process right here in our office! Each patient's journey looks a little different, but here are the four basic steps of the process:
Initial Dental Implant Consultation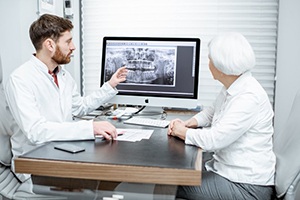 The first step of your dental implant process will be your consultation. During your appointment, Dr. Sanker will take several images of your mouth and facial structure and ask you questions about your overall health and oral habits. This will help him determine whether you're a good candidate for the procedure. Your consultation is also a good opportunity to get any questions that you have answered.
Working together, we'll determine the desires you have for your restored smile and discuss any possible limitations with you. If you're a good candidate for dental implants, we'll walk you through a step-by-step treatment timeline. Some of our patients need preparatory procedures such as bone grafting, sinus lifts, and periodontal therapy before we can schedule their implant placement, while others can have their implants inserted right away.
Dental Implant Surgery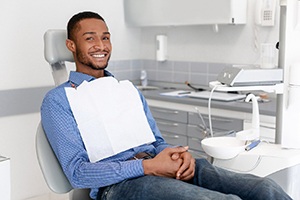 Dr. Robert J. Sanker is a specialist in prosthodontics and is able to insert your implants from the comfort of our own office. That way, you won't have to travel between specialists and deal with inconvenient communication gaps. The surgery itself is minimally invasive and virtually pain-free, thanks to sedation and local anesthetic. In fact, many of our patients are able to return to their daily routines the very next day.
Dr. Sanker will make a small incision in your gums and gently insert the implants at strategically planned locations in your jawbone. Once the incisions are closed, you'll begin your healing and osseointegration process which will take place over the next few months.
Dental Implant Osseointegration/Abutment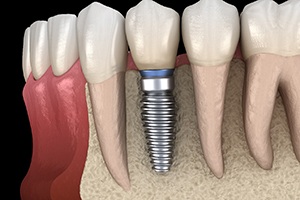 Once your implants have been placed, they will naturally fuse with your jawbone through a process called osseointegration. This is one of the most important parts of the procedure, considering it's what provides your restorations with a strong and sturdy foundation to be attached to. Once the osseointegration process has finished, we will place your abutments. These are small connector pieces that we attach to your implants to secure your dental crown, bridge, or denture.
Delivery of Dental Implant Restorations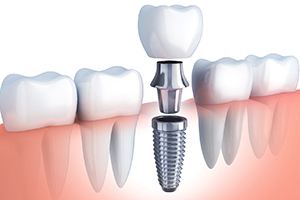 The final and most anticipated part of the process will be your restoration placement. Your implant dentist in Rockville will call you in for your final appointment when we receive your custom-crafted replacement teeth. We'll check to make sure that they're created to our specifications and attach them to your abutments, revealing exquisite and natural-looking results.
Once everything is said and done, you'll be glad to know you invested your time and money into a beautiful, durable, and strong tooth replacement solution that can last over 35 years with the proper care.
Benefits of Dental Implants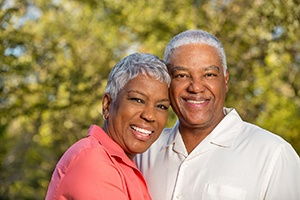 If you've lost a tooth or two over the years, you have more options than ever to replace your missing teeth. As an alternative to traditional prosthetics, many patients are turning to dental implants to treat their tooth loss. A dental implant is the only solution to recreate the tooth from the root up. This allows you to enjoy a variety of benefits not possible using any other treatment, including:
Predictable Results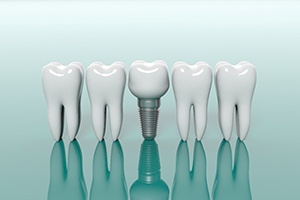 Dental implants produce the most predictable outcome because they offer reliable results. In fact, dental implants have over a 95% success rate. They are proven to last for several decades with the right aftercare, like maintaining your oral hygiene at home and visiting your dentist at least twice a year. This provides a long-term solution that has the potential to pay for itself because it will never need to be replaced.
Looks Natural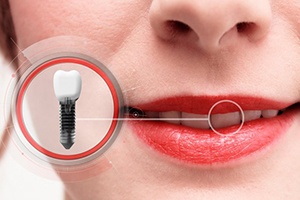 Traditional prosthetics have undergone several improvements in recent years to make them more realistic than ever; however, they will also have their limitations. A dental implant closely looks natural because all-ceramic material is used. This allows it to be carefully crafted to meet your exact size, shape, and color needs to blend in when you smile.
Feels Natural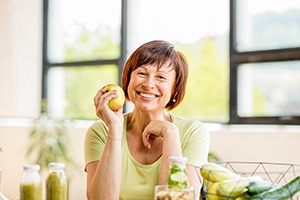 A dental implant doesn't rely on other teeth for support. Instead, your jawbone fuses to the titanium post, providing a secure foundation for your restoration. You'll regain as much as 70% of your natural biting force to enjoy your favorite foods again. This allows you to maintain a complete diet for optimal wellness.
Strengthens the Jawbone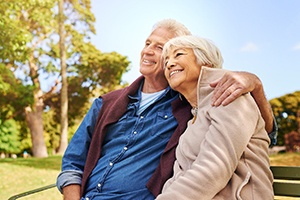 Losing even a single tooth causes you to lose density in your jaw because it isn't being stimulated by the root. Since traditional prosthetics only recreate the portions of your teeth visible above the surface, they can't stop bone loss, but a dental implant can. With the post acting as a root, it stimulates your bone to encourage new growth. This keeps your jawbone strong to preserve your natural smile.
Stops Dental Drift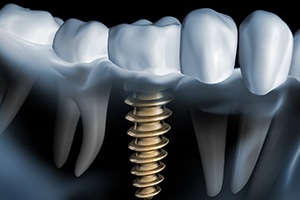 Stopping bone loss gives your remaining teeth the support they need to stay in place. This halts dental drift to prevent alignment issues, cavities, gum disease, and even tooth loss. This allows you to invest in a healthy smile that lowers your long-term cost for care.
Who Dental Implants Can Help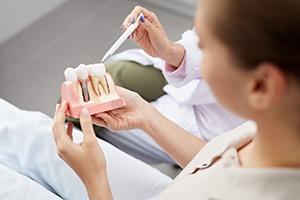 Dental implants in Rockville are the most reliable form of tooth replacement for patients dealing with any level of tooth loss. Whether you're missing one tooth, several consecutive teeth, multiple teeth throughout your mouth, or an entire arch of teeth, we can create a custom dental implant treatment plan to help you regain the complete smile you deserve. First, we'll need to see you for a consultation to ensure that you're a good candidate for dental implants. From there, we can design your treatment plan based on how many teeth you're missing.
Who Is a Good Candidate for Dental Implants?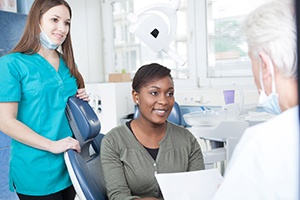 Most adult patients with one or more missing teeth qualify for dental implants. To be considered a good candidate, we'll be looking for three main factors during your consultation:
Good overall health: Since getting dental implants requires minor surgery, you need to be in good overall health.
Great oral health: It's essential for the success of your dental implants that your mouth is free of issues like cavities and gum disease.
Adequate jawbone density: Dental implants integrate with the jawbone, so you'll need to have adequate bone density before moving forward with treatment.
If you don't meet all of these qualifications, we may be able to help you. Many patients need to get preliminary treatments like bone grafting or gum disease treatment before getting their dental implants.
Once you're cleared as a good candidate for dental implants, we'll design your treatment plan, including how many dental implants you need, depending on your number of missing teeth.
Missing 1 Tooth
Even if you're only missing one tooth, it's critical that it be replaced. Otherwise, the surrounding teeth can begin to shift, which can lead to an imbalanced bite and a greater chance of gum infection. The implant process for replacing a single tooth includes the placement of a single dental implant topped with a custom-made dental crown. The end result will look, feel, and function just like the missing tooth.
Missing Multiple Teeth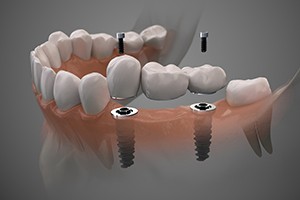 If you have several teeth missing, we can fabricate an implant bridge. Unlike a traditional fixed bridge, the former doesn't rely on the surrounding teeth to secure it. Instead, several porcelain crowns are attached in a series to a single apparatus that is affixed to the dental implant to provide a durable and lasting restoration. Similarly, for multiple missing teeth around the mouth, we can anchor a partial denture in place with a few dental implants instead of retaining it with metal wires and clasps.
Missing All Teeth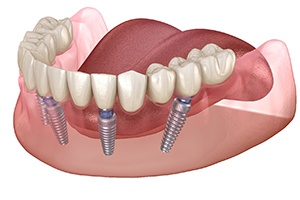 To replace a full set of missing teeth, Dr. Sanker will insert four to six implants per arch. The strategically placed fixtures will be angled in a manner that maximizes the bone-to-implant ratio and supports a complete set of dentures. That means you won't have to depend on dental adhesive and the natural suction in the mouth to maintain their position. Depending on your unique situation, you may benefit from a traditional implant denture or All-On-4 dental implants.
Understanding the Cost of Dental Implants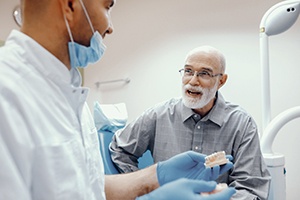 We know that a big part of planning for the dental implant procedure is knowing what the cost is. When you visit our office, we'll perform a thorough examination, which includes assessing how much healthy bone mass remains, the condition of your oral health and the number of teeth you have missing. Then, for each step of the process, which includes the initial implant placement, the abutment attachment, and the addition of a final restoration, we'll inform you of the cost.
Advanced Dental Implant Procedures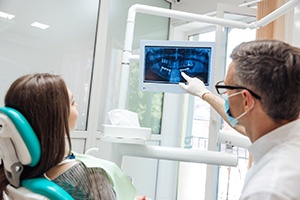 Most people who have good oral and general health are candidates for dental implants; however, some patients will require additional procedures before undergoing their placement surgery. If you've lost density in your jaw, you might need bone grafting to create a stable foundation for your new smile. If you've lost bone in the back of your mouth near your molars, a sinus augmentation may also be needed. Although they add additional steps to your treatment plan, they are essential to ensure your new smile has everything it needs to thrive.
Bone Grafting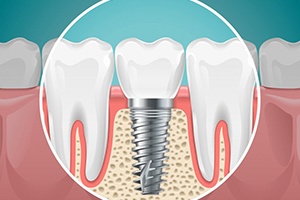 A titanium implant post is surgically placed into your jawbone to act as a new root. You must have adequate bone density for your jaw to support the post. If you've had missing teeth for several years or suffered from advanced gum disease, your jawbone might be compromised. Don't worry, we can enhance the thickness of areas that have weakened using bone grafting.
The surgical procedure takes bone from another area in your mouth or from a donor and transfers it to the treatment site using a surgical procedure. Over the next several months, your jaw will integrate with the graft to ensure that it's strong enough to support the posts in the long term.
Sinus Lifts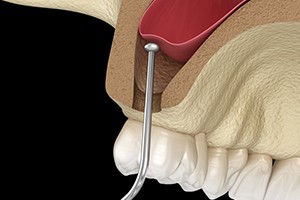 Also known as a sinus augmentation, this treatment is needed when there isn't enough bone near the back molars in the upper arch. If implant posts are placed into the bone, the posts can protrude into the maxillary sinuses, which are located on either side of your nose. A sinus lift raises the sinuses and adds bone to ensure there is enough space for the implant posts.
During the surgical procedure, a small oval is cut into your bone and the sinus is lifted upward. A bone graft is placed into the hole and your gum tissue is sutured closed. Over the next several weeks, your jawbone will heal, making you a suitable candidate for dental implants.
Dental Implant FAQs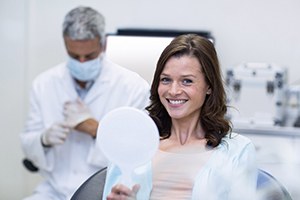 Do you still have questions about the details of the dental implant process? We've answered a few frequently asked questions below! To learn more about the dental implant procedure and to finally experience the joys of having your smile completely restored, contact us today to request an appointment !
How Are Dental Implants Placed?
After the anesthetic has numbed the site, a small incision is made in your gums. Then, the implant is placed in your jaw. A protective cap covers the implant to shield it during osseointegration—when the implant and surrounding bone fuse together. The cap also maintains the shape of your gum tissue, which makes attaching replacement teeth easier.
Does Dental Implant Surgery Hurt?
No, not at all. Dr. Sanker administers a local anesthetic to the site before he begins the procedure. You may feel pressure as he works, but you will not feel any pain.
What Is Recovery Like After Dental Implant Surgery?
If you only need one dental implant, then you will likely feel up to doing your normal daily activities after your appointment. However, if you are receiving more than one implant, then you may need a day or two to rest. While you recover, be sure to drink plenty of fluids, eat soft foods and brush gently around the surgical site.
How Long Do I Have to Wait for My New Teeth?
That all depends on how many dental implants you've received. For one implant, the healing time usually takes between three to six months. Healing after surgery for several implants may take longer.
How Successful Are Dental Implants?
Dental implants are more than 95 percent successful. Furthermore, research shows that implants are very safe. Risk factors such as smoking, poor oral hygiene, diabetes or another disease that can impede healing could increase the chance of failure.
How Long Do Dental Implants Last?
This all depends on the patient's lifestyle and health. To ensure that dental implants last, it is important to brush, floss, and rinse with a mouthwash every single day. Always attend your routine cleanings and checkups. It is also a good idea to avoid foods that are particularly hard or sticky. With proper maintenance, dental implants can last upwards of three decades. This is several times longer than traditional bridges and dentures.
Can I Get Dental Implants If I'm Diabetic?
If your diabetes is under control, your odds of dental implant success are comparable to those of nondiabetic patients. Uncontrolled diabetes and chronic high blood sugar can slow down the healing process, making it more difficult for your implants to integrate with the jawbone. If you are interest in getting dental implants but you have diabetes, talk to your endocrinologist or primary care physician about getting your diabetes under control ahead of time.
Do Dental Implants Make You Look Younger?
Yes! The force of biting and chewing spreads through the roots of your teeth to stimulate your jawbone. When a tooth is missing, the jawbone loses that stimulation and begins to deteriorate. Since the jawbone can no longer support the facial structures, you may end up with sunken-in cheeks and fine lines around the mouth. Dental implants are the only tooth replacement option that replaces the roots of the missing teeth and stimulate the jawbone. Ultimately, they will help you to keep your youthful appearance.
Do I Need a Bone Graft Before Getting Dental Implants?
Bone grafting involves transplanting a piece of bone tissue to the jawbone to strengthen it so that it can accommodate dental implants. The jawbone often atrophies after teeth have been lost because the tooth's roots no longer stimulate It through biting and chewing. Detailed scans of your jaw area will be taken to determine whether or not you will need bone grafting before getting dental implants.
Are Dental Implants Right for Me?
Chances are the answer to this question is yes! Schedule a consultation with Dr. Sanker to find out if dental implants can restore your beautiful smile.