Dental Implants – Rockville, MD
A Reason to Smile Again
There is no better reminder of the importance of maintaining healthy teeth than to live without them. It means simple tasks like chewing food effectively and pronouncing words with clarity can suddenly become difficult. Furthermore, an asymmetrical smile can leave you feeling less confident. Here at our Rockville office, Dr. Sanker helps patients get their lives back on track by placing dental implants. To start the process to regaining the life you once had, contact us today to schedule an initial visit!
Benefits of Dental Implants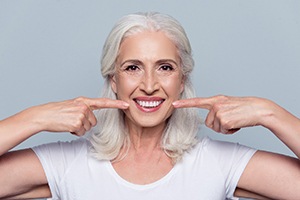 When it comes to tooth replacement, the dental implant process is unlike any other. Here are the benefits you can look forward to:
A natural looking smile
Can last 30 years or more
No damage to the surrounding teeth
Durable and long-lasting construction
Up to 75% of your original chewing capacity restored
Replaces the entire tooth structure, from the root to the crown
Learn More About the Benefits of Dental Implants
Indications of Dental Implants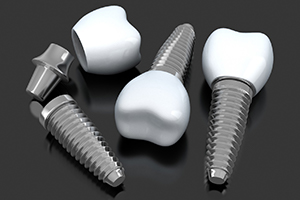 Dental implants in Rockville are the most reliable form of tooth replacement for any patient with adequate oral health and enough viable bone mass to support the fixtures. There are different types, however, designed to meet your specific needs.
Missing Single Tooth
Even if you're only missing one tooth, it's critical that it be replaced. Otherwise, the surrounding teeth can begin to shift, which can lead to an imbalanced bite and a greater chance of gum infection. The implant process for replacing a single tooth includes the placement of a dental implant, abutment and porcelain crown to provide a functional and attractive restoration.
Learn More About Single Tooth Dental Implants
Missing Multiple Teeth
If you have several teeth missing, we can fabricate an implant-retained bridge. Unlike a traditional fixed bridge, the former doesn't rely on the surrounding teeth to secure it. Instead, several porcelain crowns are attached in series to a single apparatus that is affixed to the dental implant to provide a durable and lasting restoration.
Missing All Teeth
To replace a full set of missing teeth, Dr. Sanker will insert four to six implants per arch. The strategically placed fixtures will be angled in a manner that maximizes the bone to implant ratio and supports a complete set of dentures. That means you won't have to depend on dental adhesive and the natural suction in the mouth to maintain their position.
Learn More About Implant-Retained Dentures
Start-to-Finish Dental Implant Treatment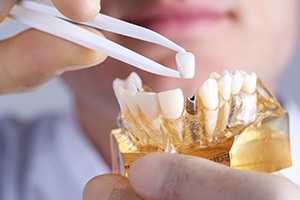 When you visit our office for dental implants, all the care you need will be completed under one roof. The process starts with Dr. Sanker performing a thorough examination to make sure the process is right for you. Then, he'll map out a custom plan to meet your needs. Next, he'll place the dental implant, abutment and final restoration to leave you with a beautiful and usable set of teeth. By working with an implant dentist in Rockville, you can feel confident that you'll have a successful and convenient procedure.
How Dental Implants Work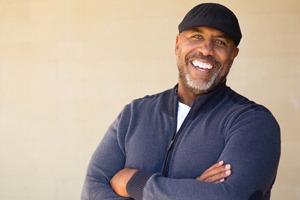 The dental implant process takes course over several months, starting with a consultation with Dr. Sanker. During your initial visit, we'll determine whether you're a good candidate for the procedure and put together a detailed timeline so you know what to expect. Once everything is said and done, you'll be glad to know you invested your time and money into a beautiful, durable, and strong tooth replacement solution that can last over 35 years with the proper care.
Learn More About How Dental Implants Work
Understanding the Cost of Dental Implants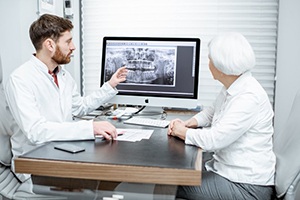 We know that a big part of planning for the dental implant procedure is knowing what the cost is. When you visit our office, we'll perform a thorough examination, which includes assessing how much healthy bone mass remains, the condition of your oral health and the number of teeth you have missing. Then, for each step of the process, which includes the initial implant placement, the abutment attachment and the addition of a final restoration, we'll inform you of the cost.
To learn more about the dental implant procedure and to finally experience the joys of having your smile completely restored, contact us today to request an appointment!
Advanced Dental Implant Procedures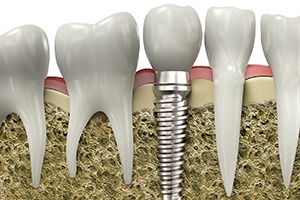 Most people who have good oral and general health are candidates for dental implants; however, some patients will require additional procedures before undergoing their placement surgery. If you've lost density in your jaw, you might need bone grafting to create a stable foundation for your new smile. If you've lost bone in the back of your mouth near your molars, a sinus augmentation may also be needed. Although they add additional steps to your treatment plan, they are essential to ensure your new smile has everything it needs to thrive.