Dental Implant Failure & Salvage – Rockville, MD
Expert Dental Implant Salvage
Dental implants in Rockville boast an impressive success rate of 95%, even after 10 years of placement. Even though most patients are able to enjoy their new smiles for decades, some do experience dental implant failure. While this problem doesn't automatically mean that you can no longer benefit from your dental implants, it is a problem that will need to be addressed by a specialist like Dr. Sanker. Our team offers high-quality, specialized treatment for dental implant failure, so don't hesitate reaching out to us if you notice anything out-of-the-ordinary.
Why Choose Robert J. Sanker, DDS for Dental Implant Salvage?
Specialist in Prosthodontics with 35+ Years of Experience
We Accept Dental Insurance
Friendly & Experienced Dental Team
Why Do Dental Implants Fail?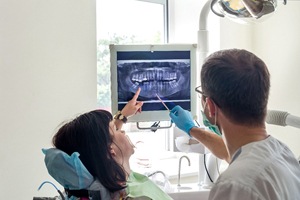 Dental implants can fail for several reasons, but the most common one is due to an infection called peri-implantitis. This occurs due to harmful oral bacteria that attack the surrounding supportive tissues and bone structure around the implant post. It can cause it to become inflamed and even prevent it from fusing with the jawbone. Oftentimes, peri-implantitis is a result of poor oral hygiene.
Some additional causes of dental implant failure in Rockville include:
Failed osseointegration, or fusion between the implant post and the jawbone
Physical trauma that damages the implant
Autoimmune diseases that prevent the body from healing after dental implant surgery, like diabetes and cancer
Signs of Failing Dental Implants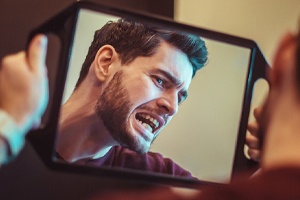 Dental implant failure can occur early on in the process, like after your surgery, or years later. So, you'll always need to be on the lookout for some common signs of this issue:
Unusually Severe Pain. While soreness is typical after you've had your dental implant surgery, once you've healed, your implants shouldn't feel uncomfortable or sore in your mouth.
A Loose Dental Implant. While sometimes a loose dental implant could just require some adjusting, it could also be a sign of implant failure.
Bleeding, Swelling, or Pus. These symptoms are all signs of peri-implantitis, which is important to get treated immediately by your implant dentist in Rockville.
Difficulty Chewing. Dental implants are fused with your jawbone, so your restorations should feel sturdy and comfortable in the mouth. If you have difficulty chewing foods, this could be a sign of dental implant failure.
How Does Dental Implant Salvage Work?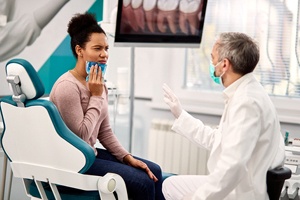 The first step you should take if you notice any signs of failing dental implants is to call our office. We'll examine your mouth and speak with you about any symptoms you're experiencing. In some situations, a thorough cleaning paired with antibiotics can stop the spread and even reverse an infection. Sometimes, we may only need to tighten the restoration to the dental implant. The direction in which we go for treatment will be determined by what the underlying cause of your symptoms is. We'll do our best to explain our treatment recommendations to you thoroughly so that you know exactly what to expect.