Implant-Retained Dentures – Rockville, MD
Make Your Denture Last Longer Than Ever!
Does your denture constantly shift out of place and make basic tasks like talking and eating more difficult? You're far from alone. Over the years, more and more patients frustrated with their denture have been looking for a more effective solution to tooth replacement, especially whole and partial arches. The good news is dental implants can actually be used in tandem with dental implants in order to improve their stability and longevity! Dr. Sanker is a specialist in prosthodontics and implant dentistry, making him the most ideal person to talk to when searching for a more effective solution to tooth loss. Contact his office today to learn more about the process!
What are Implant-Retained Dentures? How Do They Work?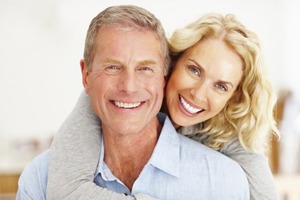 Implant-retained dentures are complex restorations designed to work in tandem with dental implants. Traditionally, dentures are held in place either through natural suction and denture adhesive or a series of metal rings and existing teeth (in the case of partial dentures.) By combining these dental technologies together, we can help denture users obtain a more stable and longer-lasting solution to extensive tooth loss.
Implant-retained dentures work because the implants used to hold them are placed strategically throughout the mouth to maximize current bone volume. In fact, implant-retained dentures are generally easier to receive because of this reason. Even after the implants are initially placed, patients can wear a temporary restoration so they don't have to be without their smile while the implants heal.
Benefits of Combining Dentures & Dental Implants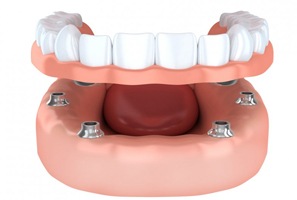 One of the most notable benefits of implant-retained dentures is the fact that you can restore many of your previous habits thanks to the treatment's root replacement. For example, chewing your favorite foods feels far more natural because a prosthetic root is stimulating your jaw bone. This is not going to be possible with a traditional bridge or denture.
Additionally, dentures retained with dental implants are considerably more stable, which means there's no need to use denture adhesive just to keep them in place. You also won't need to replace them as often since your mouth will no longer change shape as much as it did when you only relied on dentures.
Am I a Candidate for Implant-Retained Dentures?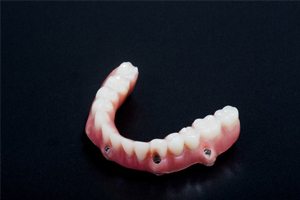 Those who may not have been eligible for dental implants should not push implant-retained dentures aside just yet. In many cases, denture users can still take advantage of this treatment even if they been using dentures for a long time. During your consultation, Dr. Sanker will perform a thorough examination of your mouth and oral structures to confirm that your oral health is in good standing. He'll also evaluate your current bone volume in order to ensure that your dental implant treatment is feasible.
The Implant-Retained Dentures Procedure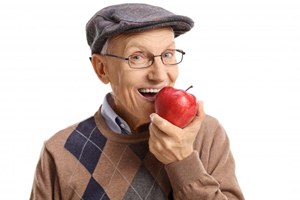 After confirming your eligibility for dental implants and listening to your needs, Dr. Sanker will begin creating your treatment plan. He'll determine your need for a complete denture vs. a partial version, then determine how many implants will be needed for placement. At a later date, he'll schedule you for oral surgery to have the implants placed.
After the implants are placed, you'll need to let them integrate with your bone tissue over the next several months. Once healed, a temporary healing cap will be placed on top of the implants so that the gum tissue can properly heal around the implants. After about two weeks of healing, the caps will be replaced with permanent abutments. An impression will be taken of the abutments so a mold can be used to create your permanent denture. This restoration is made to be either fixed or removable depending on your preference.