All-on-4 – Rockville, MD
Fewer Bone Grafts, Faster Smiles
With the improved stability and strength they offer, it's no wonder that many patients want dental implants to support their dentures. Unfortunately, if you've lost all your teeth, chances are your jawbone has lost some of its density, making it more difficult to place dental implants without bone grafts. In these cases, schedule an appointment with Dr. Sanker to ask about the All-on-4 procedure; if you're a candidate, you could enjoy the benefits of dental implants without needing to undergo additional surgery first.
How Do All-on-4 Implants Work?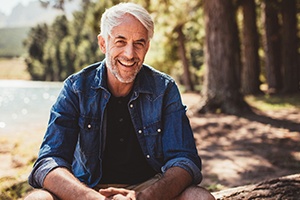 Like traditional implant-retained dentures, the All-on-4 procedure involves surgically placing titanium implant posts in your mouth. Your false teeth will be anchored to these posts, holding them in place and allowing your jaw to receive the stimulation from chewing it needs to stay strong.
The key difference in the All-on-4 procedure is the 30 to 45-degree angle at which the posts near the back of the mouth are inserted into the jaw. This lets them take advantage of the areas with the highest amount of jawbone density, which is why they can often be placed even after bone loss has occurred.
Am I a Candidate for All-on-4 Implants?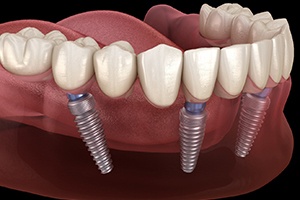 You can consider All-on-4 implants when you need to replace all of the teeth in the upper or lower arch of your jaw. While this procedure reduces the need for bone grafts, we'll still need to take your overall oral health into account. Patients with gum disease are at a higher risk for dental implant failure, so any infections already present inside your mouth need to be taken care of first. Also, we'll need to make sure you aren't taking any medications that could stop your mouth from healing properly. The ideal candidate for All-on-4 is a nonsmoker, although smokers may still be able to have the surgery done.
What are the Benefits of All-on-4 Implants?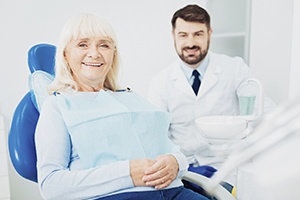 With All-on-4, you can enjoy all the benefits of an implant-retained restoration, including:
More Chewing Power: Implants can provide chewing power that's almost equal to that of your teeth, allowing you to eat foods that you may not have been able to enjoy with traditional dentures.
Healthier Jawbone: The stimulation from implants stops the jaw from deteriorating, allowing you to maintain a more youthful facial structure overall.
No Slipping: Dentures that rest on your gums might slip when you speak, sneeze, or chew; this isn't a problem with implant-retained dentures.
Easier Oral Hygiene: You can brush dentures that have been permanently attached to implants like you would your natural teeth.
All-on-4 VS Traditional Dental Implants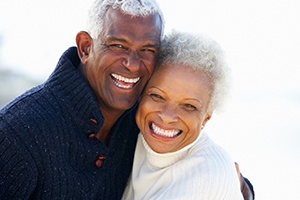 Traditional implant procedures and the All-on-4 procedure are both highly effective ways to restore your smile, but All-on-4 can significantly reduce the need for bone grafts. Furthermore, because of the stability that All-on-4 provides, you may be able to wear temporary dentures while your mouth heals; that means you won't have to wait months after the actual implant surgery to start enjoying new teeth.