Smiles Created with Full & Partial Dentures
Dr. Sanker restores the function and appearance of smiles with a range of dentures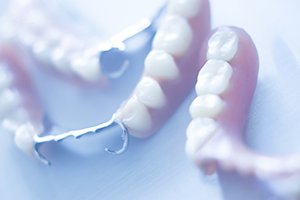 In dentistry, missing teeth are one of the most common concerns for many patients. When you find your smile suffering from missing teeth, you may feel self-conscious about smiling, speaking, or even chewing the foods you love. With dentures, implant supported dentures and partial dentures provided by the Rockville dental offices of Robert J. Sanker, DDS, you will never have to worry about feeling self-conscious about your smile for long.
Missing teeth may occur for many reasons, and dentures can provide an effective solution in getting you smiling again. Whether you have lost teeth due to a disease, genetic disorder, malnutrition, or any other everyday dental ailment, dentures can provide you all the benefits of a healthy, beautiful smile. And with three options to choose from, including conventional dentures, implant supported dentures, and partial dentures, the choice is yours. You shouldn't have to worry about missing out on the things you love or being embarrassed by your space-filled smile, and with dentures, you never will.
For the best strength and stability in your smile, our Rockville prosthodontist offers implant supported dentures. Implant supported dentures rest on, just like they sound, dental implants. Your implant supported dentures are affixed to these dental implants, so they don't rest on the gums like regular, conventional dentures. Implant supported dentures are a popular choice today, as their removable nature allows for deep cleaning and complete comfort, while still allowing you to enjoy everything a healthy, aesthetically-appealing smile offers. Implant supported dentures can provide you with the utmost confidence in going about your daily life, whether it is eating, smiling, or speaking in public.
When you are not in need of a full set of dentures, removable partial dentures can prove to be a considerable alternative. The partial dentures available at our Rockville dental office can provide you with a comfortable solution to all your missing teeth worries. These removable partial dentures can attach to your natural teeth, allowing you to place them in when you need them, and remove them when you don't – it's that simple. Partial dentures can also provide you with the strength and support that regular dentures can, allowing you to chew comfortably and reclaim your life. With partial dentures, you can hold your head high while doing any everyday activity. Our dental office will ensure that your partial dentures blend naturally with your existing teeth, giving you the complete confidence that only a shining white smile can. Your smile should never by less than perfect, and partial dentures can help.
Dentures can give your smile back its full functionality and purpose. Rockville dentures from the trained staff at Robert J. Sanker, DDS, can be yours today. Whether you are in need of conventional dentures, implant supported dentures, or partial dentures, we can mold and place them with the utmost care and attention to detail.
Cost of Dentures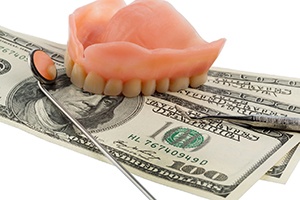 It's understandable to be apprehensive about getting dentures for the first time, especially if you don't know how much you'll end up paying for your new teeth in the end. Dr. Sanker and the rest of our team will discuss the costs associated with dentures at great length so that you can start thinking now about how you're going to fit them into your budget. If you have any questions about the cost of dentures that aren't addressed below, please bring them to our attention during your visit.
Factors that Affect the Cost of Dentures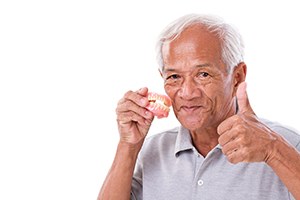 Preparation: Sometimes teeth need to be extracted before full dentures can be worn. Other preliminary procedures might also be needed before the mouth is ready for dentures.
Base Materials: The base of the denture (the part that resembles the gum tissue) can be made out of different kinds of acrylic. Cheaper materials are not necessarily better; they may not last as long and could make for a less comfortable denture.
False Teeth Materials: The false teeth of the dentures are normally made of acrylic or porcelain. Again, cheaper materials are usually of lesser quality. Paying extra could be worth getting the best possible smile.
Are Implant Dentures More Expensive?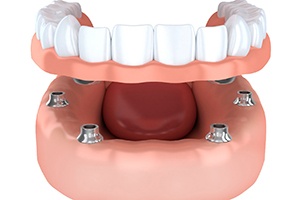 With implant dentures, not only are you paying for the false teeth themselves, but you also need to account for the placement of dental implant posts and the various procedures involved in that process. Obviously, this means that implant dentures are more expensive at the onset, but the upside is that you'll have a more permanent, lifelike new smile that will let you smile comfortably and confidently. Plus, the investment can end up paying off in a significant way as the years go by. Normal dentures have to be replaced every 5 to 7 years, but implants have a much longer lifespan and thus won't require you to buy a replacement nearly as often.
Does Dental Insurance Cover Dentures?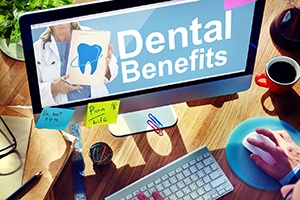 Most plans do indeed pay for dentures, but of course it's always best to check with your provider first to make sure. Our team can use your policy information to confirm what your benefits are for specific treatments before beginning the process. Dentures are normally considered a major procedure, which means that usually you can expect insurance to pay around half of the costs associated with them. (The exact amount can vary depending on the plan in question.
Other Options for Making Dentures Affordable
Do you not have insurance, or is your plan not going to be enough to make dentures affordable within your current budget? You might want to consider a CareCredit financing plan. This can make paying for dental procedures much more convenient since the cost is divided into monthly installments. You can even get CareCredit financing for treatments that aren't normally covered under insurance, such as implant placement. You can apply for CareCredit on our website, but we can also discuss it with you in person if you have any questions.
Denture FAQs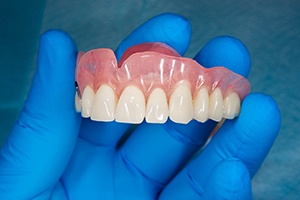 Reading through the above information will give you insight into everything from the types of dentures in Rockville to how to properly care for your new-and-improved smile. With that being said, it's completely natural to still have a few questions on your mind. Since many of our patients prefer to do their research online, we've responded to a few of their most frequently asked questions below. As always, we're just a phone call away if you'd prefer to speak directly with our team!
What Qualifies You for Dentures?
Whether you are missing a few teeth or an entire arch, you may be a candidate for dentures. During your initial consultation, your denture dentist in Rockville will take the time to conduct an oral exam, ask you a few questions, and learn all about your smile goals. From there, he can determine your viability. The good news is most patients who are diligent about their oral health are rock-solid candidates! Even if an untreated condition like gum disease initially stands in your way, the appropriate restorative care can be worked into your treatment plan.
Is It Hard to Talk with Dentures?
As your mouth adjusts to your new dentures, you may experience a bit of a learning curve. During this time, it's important to be patient with yourself and take it slow. Try reading a magazine aloud and repeating the more difficult words (like "sixty") until you're able to say them without a lisp. You should also try biting down and swallowing before you speak which will prevent slippage and excess saliva from messing up your speech. Remember: the more you practice, the faster the adjustment process will be.
What Can't You Eat with Dentures?
Whether you've been struggling with tooth loss for years or a couple of months now, you know the detrimental impact it can have on your smile. Fortunately, dentures can help restore your bite force, allowing you to enjoy your meals pain-free again! Still, it is a good idea to avoid foods that can tug on them like peanut butter and gummy candies. Nuts, raw carrots, and other hard items pose a risk of damaging your restoration as well which is why you should always exercise caution.
How Can I Reduce the Cost of Dentures?
If you have dental insurance, then you'll be happy to know many plans cover at least a portion of the cost. Since we accept most providers here at the office of Dr. Robert Sanker, let us help you maximize your benefits and minimize your out-of-pocket cost! We also happily accept flexible financing through CareCredit which can break up the cost into manageable payments that fit into your monthly budget. Don't worry – our team will review all the various financial options with you in-depth at your consultation. That way, you can make an informed decision on which path is right for you.