Smiles Created with Full & Partial Dentures
Dr. Sanker restores the function and appearance of smiles with a range of dentures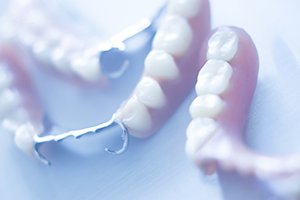 In dentistry, missing teeth are one of the most common concerns for many patients. When you find your smile suffering from missing teeth, you may feel self-conscious about smiling, speaking, or even chewing the foods you love. With dentures, implant supported dentures and partial dentures provided by the Rockville dental offices of Robert J. Sanker, DDS, you will never have to worry about feeling self-conscious about your smile for long.
Missing teeth may occur for many reasons, and dentures can provide an effective solution in getting you smiling again. Whether you have lost teeth due to a disease, genetic disorder, malnutrition, or any other everyday dental ailment, dentures can provide you all the benefits of a healthy, beautiful smile. And with three options to choose from, including conventional dentures, implant supported dentures, and partial dentures, the choice is yours. You shouldn't have to worry about missing out on the things you love or being embarrassed by your space-filled smile, and with dentures, you never will.
For the best strength and stability in your smile, our Rockville prosthodontist offers implant supported dentures. Implant supported dentures rest on, just like they sound, dental implants. Your implant supported dentures are affixed to these dental implants, so they don't rest on the gums like regular, conventional dentures. Implant supported dentures are a popular choice today, as their removable nature allows for deep cleaning and complete comfort, while still allowing you to enjoy everything a healthy, aesthetically-appealing smile offers. Implant supported dentures can provide you with the utmost confidence in going about your daily life, whether it is eating, smiling, or speaking in public.
When you are not in need of a full set of dentures, removable partial dentures can prove to be a considerable alternative. The partial dentures available at our Rockville dental office can provide you with a comfortable solution to all your missing teeth worries. These removable partial dentures can attach to your natural teeth, allowing you to place them in when you need them, and remove them when you don't – it's that simple. Partial dentures can also provide you with the strength and support that regular dentures can, allowing you to chew comfortably and reclaim your life. With partial dentures, you can hold your head high while doing any everyday activity. Our dental office will ensure that your partial dentures blend naturally with your existing teeth, giving you the complete confidence that only a shining white smile can. Your smile should never by less than perfect, and partial dentures can help.
Dentures can give your smile back its full functionality and purpose. Rockville dentures from the trained staff at Robert J. Sanker, DDS, can be yours today. Whether you are in need of conventional dentures, implant supported dentures, or partial dentures, we can mold and place them with the utmost care and attention to detail.