Dental Checkups & Cleanings – Rockville, MD
Consistent Support for a Healthy Smile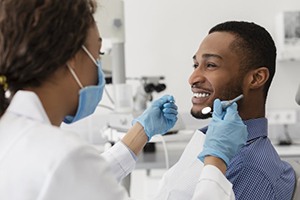 Can you remember the last time you visited a dentist for a routine checkup? If you're like the vast majority of Americans, you probably can't because you don't attend a dental cleaning and checkup as often as you should. According to the American Dental Association, most people should see their dentist twice a year (every six months) or even more frequently if they have certain medical conditions. While these appointments may not seem important to some people, the truth is that they can prevent major oral health problems from worsening and wreaking havoc on your mouth and your wallet. With just two quick visits a year, Dr. Robert J. Sanker can help your smile stay healthy for life!
Why Dental Checkups and Cleanings Are Important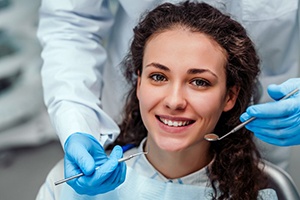 If you already brush and floss your teeth every day, you might be wondering why you even need to bother with biannual checkups and cleanings. After all, isn't your at-home oral hygiene routine enough?
While diligent brushing and flossing is absolutely essential, it's actually only half the battle. Your toothbrush and floss aren't capable of cleaning every single part of your mouth. Plaque can build up in the areas these tools can't reach, which can contribute to cavities and gum disease. The only way to address these problem areas is with a dental cleaning, during which a hygienist will use special instruments to remove plaque and tartar, which is hardened plaque that you can't get rid of by yourself.
Also, many dental problems don't show symptoms until they have progressed to their advanced stages. Regular checkups give Dr. Sanker the chance to make sure there are no hidden problems that need to be treated.
With his highly trained eyes, he's able to spot issues like tooth decay or a gum infection long before you would start noticing symptoms. From there, he can develop a personalized plan with quick and conservative treatment. Routine checkups ensure that small problems don't snowball into larger ones later, saving you from extensive, time-consuming, and costly procedures down the road.
What You Can Expect During a Checkup and Cleaning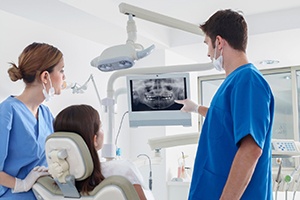 After being greeted by our friendly front desk staff and getting any necessary paperwork squared away, we'll lead you into a treatment room, where a member of our team will take several x-rays of your mouth. Then, Dr. Sanker will spend some time getting to know you before performing a checkup. He'll discuss your dental history and thoroughly evaluate all of your oral structures.
Using his findings as well as the x-rays, he can develop a customized treatment plan to address any issues and maintain optimal oral health. You'll have a chance to ask any questions you may have.
Afterward, a hygienist will remove plaque and tartar from your mouth. Then, your teeth will be polished with a special paste that not only removes surface stains, but also makes it more difficult for bacteria to attach themselves to your teeth.
Schedule Your Next Appointment Today!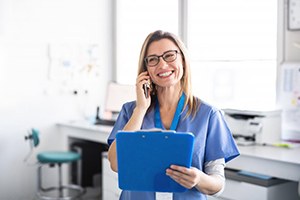 If you want to avoid cavities and gum disease and always have a smile that you're proud to show off, regular checkups and cleanings with Dr. Sanker are a great way to accomplish that. All it takes is just an hour-long appointment every six months. To schedule your next checkup with a caring dentist in Rockville, contact us today!