How Dental Implants Work – Rockville, MD
The Durable & Long-Lasting Tooth Replacement Treatment
When you choose to get dental implants in Rockville, you're electing to repair your smile using the latest dental technology and techniques. This will allow you to enjoy your restored mouth for decades to come without laborious upkeep and frequent visits to your dentist for readjustments and relining. You mat be well aware of the countless benefits this restorative treatment offers, but you're not quite sure what the treatment process involves. Below, we've outlined a generalized timeline towards getting your transformed and restored beautiful new smile, starting with your initial consultation with Dr. Sanker.
Initial Dental Implant Consultation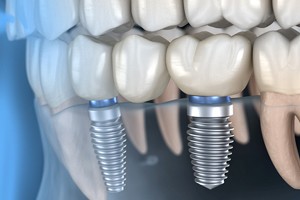 The first step of your dental implant process will be your consultation. During your appointment, Dr. Sanker will take several images of your mouth and facial structure and ask you questions about your overall health and oral habits. This will help him determine whether you're a good candidate for the procedure. Your initial consultation is also a good opportunity to get any questions that you have answered.
Working together, we'll determine the desires you have for your restored smile and discuss any possible limitations with you. If you're a good candidate for implants, we'll walk you through a step-by-step treatment timeline. Some of our patients need preparatory procedures such as bone grafting, sinus lifts, and periodontal therapy before we can schedule their implant placement, while others can have their implants inserted right away.
Dental Implant Surgery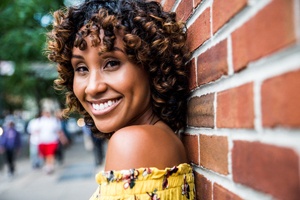 Dr. Robert Sanker is a specialist in prosthodontics and is able to insert your implants from the comfort of our own office. That way, you won't have to travel between specialists and deal with inconvenient communication gaps. The surgery itself is minimally invasive and virtually pain-free, thanks to sedation and local anesthetic. In fact, many of our patients are able to return to their daily routines the next day.
Dental Implant Osseointegration & Abutment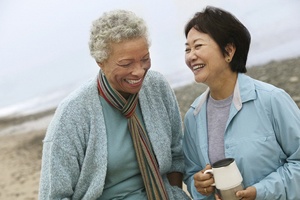 Once your implants have been placed, they will naturally fuse with your jawbone through a process called osseointegration. This is one of the most important parts of the procedure, considering it's what provides your restorations with a strong and sturdy foundation to be attached to. Once the osseointegration process has finished, we will place your abutments. These are small connector pieces that we attach to your implants to secure your implant-retained crown, bridge, or denture.
Placement of Dental Implant Restorations
The final and most anticipated part of the process will be your restoration placement. Your implant dentist, Dr. Sanker, will call you in for your final appointment when we receive your custom-crafted replacement teeth. We'll check to make sure that they're crafted to our specifications and attach them to your abutments, revealing exquisite and natural-looking results.