Benefits of Dental Implants – Rockville, MD
Invest in a Long-Term Solution
If you've lost a tooth or two over the years, you have more options than ever to replace your missing teeth. As an alternative to traditional prosthetics, many patients are turning to dental implants to treat their tooth loss. A dental implant is the only solution to recreate the tooth from the root up. This allows you to enjoy a variety of benefits not possible using any other treatment, including:
Predictable Results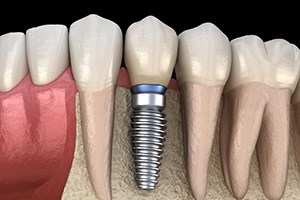 Dental implants produce the most predictable outcome because they offer reliable results. In fact, dental implants have over a 95% success rate. They are proven to last for several decades with the right aftercare, like maintaining your oral hygiene at home and visiting your dentist at least twice a year. This provides a long-term solution that has the potential to pay for itself because it will never need to be replaced.
Looks Natural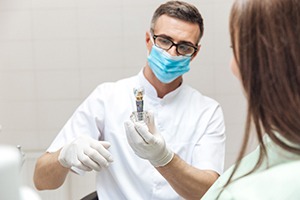 Traditional prosthetics have undergone several improvements in recent years to make them more realistic than ever; however, they will also have their limitations. A dental implant closely looks natural because all-ceramic material is used. This allows it to be carefully crafted to meet your exact size, shape, and color needs to blend in when you smile.
Feels Natural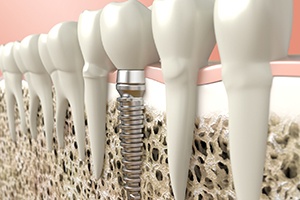 A dental implant doesn't rely on other teeth for support. Instead, your jawbone fuses to the titanium post, providing a secure foundation for your restoration. You'll regain as much as 70% of your natural biting force to enjoy your favorite foods again. This allows you to maintain a complete diet for optimal wellness.
Strengthens Jawbone
Losing even a single tooth causes you to lose density in your jaw because it isn't being stimulated by the root. Since traditional prosthetics only recreate the portions of your teeth visible above the surface, they can't stop bone loss, but a dental implant can. With the post acting as a root, it stimulates your bone to encourage new growth. This keeps your jawbone strong to preserve your natural smile.
Stops Dental Drift
Stopping bone loss gives your remaining teeth the support they need to stay in place. This halts dental drift to prevent alignment issues, cavities, gum disease, and even tooth loss. This allows you to invest in a healthy smile that lowers your long-term cost for care.
Discover the Benefits Today
If you're ready to rebuild your smile, it's time to discover the benefits of dental implants for yourself. Take your first step toward a complete smile by contacting our office to schedule your consultation. We look forward to helping you invest in a long-term solution.