Dental Implant Frequently Asked Questions – Rockville, MD
Get Answers to Commonly Asked Questions about Implants
What are Dental Implants?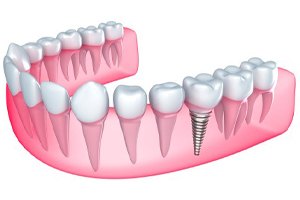 Dental implants are tooth replacements that substitute for the root and crown of a missing tooth. Each implant consists of a small post made of titanium, a biocompatible metal. This is surgically embedded in your jawbone. An abutment just above the gum keeps the post in place and a dental crown, bridge or denture replaces the visual portion of your teeth.
Does the Surgery Hurt?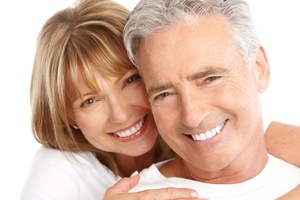 No, not at all. Dr. Sanker administers a local anesthetic to the site before he begins the procedure. You may feel pressure as he works, but you will not feel any pain.
How Are Dental Implants Placed?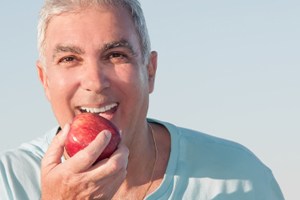 After the anesthetic has numbed the site, a small incision is made in your gums. Then, the implant is placed in your jaw. A protective cap covers the implant to shield it during osseointegration—when the implant and surrounding bone fuse together. The cap also maintains the shape of your gum tissue, which makes attaching replacement teeth easier.
What is the Recovery Like After Surgery?
If you only need one dental implant, then you will likely feel up to doing your normal daily activities after your appointment. However, if you are receiving more than one implant, then you may need a day or two to rest. While you recover, be sure to drink plenty of fluids, eat soft foods and brush gently around the surgical site.
How Long Before I Receive My Tooth Restoration?
That all depends on how many dental implants you've received. For one implant, the healing time usually takes between three to six months. Healing after surgery for several implants may take longer.
How Successful are Dental Implants?
Dental implants are more than 95 percent successful. Furthermore, research shows that implants are very safe. Risk factors such as smoking, poor oral hygiene, diabetes or another disease that can impede healing could increase the chance of failure.
How Much Do Dental Implants Cost?
The cost of dental implants depends on a number of factors such as how many implants are needed, where in the mouth they will be placed, the type of implant required and whether or not any preparatory procedure is required. You must also consider the cost of the final restoration. Our front office will be glad to assist you with estimating your cost.
Are Dental Implants Right For Me?
Chances are the answer to this question is yes! Schedule a consultation with Dr. Sanker to find out if dental implants can restore your beautiful smile.